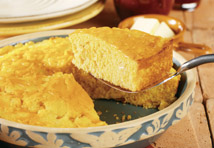 Cheesy Cornbread
Serves:8 servings (1 wedge each)
Prep Time:15 minutes
Cook Time:20 minutes
3 tablespoons butter, melted
1 cup yellow cornmeal
3/4 cup all-purpose flour
1/3 cup sugar
1 tablespoon baking powder
1 can (10 3/4 ounces) Campbell's® Condensed Cheddar Cheese Soup
1/2 cup milk
1 egg, beaten
1 can (about 8 ounces) whole kernel corn, drained*
1/2 cup Shredded Cheddar cheese (about 2 ounces)
Directions

Heat the oven to 450°F. Pour 1 tablespoon melted butter into a 9-inch round cake pan and set it aside.
Stir the cornmeal, flour, sugar and baking powder in a medium bowl. Stir in the soup, milk, egg and remaining melted butter until the mixture is smooth.
Add the soup mixture to the cornmeal mixture and stir just until it's moistened. Stir in the corn. Pour the batter into the prepared pan.
Bake for 20 minutes or until a toothpick inserted in the center comes out clean. Remove from the oven. Sprinkle with the cheese. Let cool for 15 minutes on a wire rack. Cut into 8 wedges and serve warm.
Tip: *Substitute 1 cup frozen whole kernel corn, thawed, for the canned corn.