Shamrock Milkshake
Similar to McDonald's Shamrock Shake, this version is not as thick, lighter in texture and flavor intensity. Very refreshing and enjoyable and you won't have to suck with all you might to get some through the straw to enjoy this minty milkshake.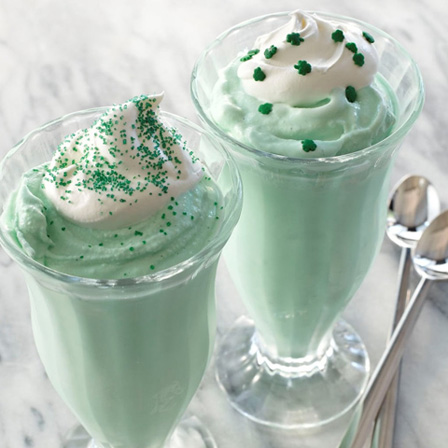 2 cups vanilla ice cream
1 cup milk
1/4 cup half and half (or just use milk)
1/4 teaspoon mint extract (not peppermint)
8 drops green food coloring
Directions
Mix all ingredients on high speed until smooth.
Stop blender, stir and blend again, if necessary, to combine


Below is another recipe I found and want to try. Sounds like it might be thicker:
Shamrock Shake
1 cup vanilla ice cream, slightly thawed
1/3 cup milk
2 tablespoons half-and-half
1/8 teaspoon mint extract
4 or 5 drops green food coloring